Application List and Cross Reference
Performance Clutch Kits Supplier in the UK
Fleetway is highly experienced and can fulfil any order requirements, large or small.
Fleetway is proud to be recognised as a leading expert in the clutch remanufacturing industry. We implement technologically advanced processes and specifications that ensure that our finished remanufactured products function equally well as original equipment products.
A Comprehensive List of Clutch Kit Products
Clutch kits and components listed in the application list include those for vehicles as early as the 1950 Morris Minor and for later models such as the 2015 Nissan 350Z, and if we do not list or stock an item, we can probably remanufacture your unit at huge cost savings. We also list and stock a comprehensive range of light commercial clutches to suit vehicles such as the Ford Transit and Mercedes Sprinter.
Fleetway Clutches maintain a cross-reference database
Most of the leading manufacturer's part numbers are represented in the Application List. If you require a cross-reference from another manufacturer's part number, then please telephone or e-mail us with the part number that you require cross-referenced.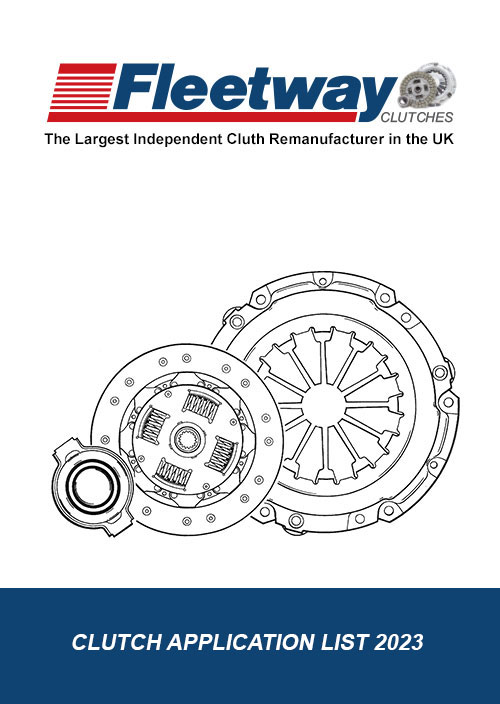 Download our Application List 2023
(Touch/Click image)
We can also select the correct clutch components for most vehicles via Vehicle Registration Mark (VRM) lookup
Please telephone or e-mail us with the registration number of the vehicle for which you require clutch components. The use of vehicle and component manufacturers names and part numbers in this website, in the cross-reference database and in the Clutch Application List is strictly for reference purposes only.
Please Note:
During compilation, every effort was made to ensure the accuracy of the information contained in the Application List and Cross Reference, however, no warranty or representation is given or made as to the accuracy of this information. Fleetway Clutches Ltd. does not accept any liability whatsoever for any inaccuracies contained therein.
Performance Clutch Kits of the highest quality are remanufactured in our plant in Dunsford, Surrey.
Included in the Clutch Application List are:
Remanufactured Clutch Kits for ALFA ROMEO vehicles

Remanufactured Clutch Kits for ASTON MARTIN vehicles

Remanufactured Clutch Kits for AUDI vehicles

Remanufactured Clutch Kits for AUSTIN HEALEY vehicles

Remanufactured Clutch Kits for BMW vehicles

Remanufactured Clutch Kits for CHEVROLET (U.K.) vehicles

Remanufactured Clutch Kits for CHRYSLER (U.S.A.) vehicles

Remanufactured Clutch Kits for CITROEN vehicles

Remanufactured Clutch Kits for DAEWOO vehicles

Remanufactured Clutch Kits for DAIHATSU vehicles

Remanufactured Clutch Kits for DODGE vehicles

Remanufactured Clutch Kits for FIAT vehicles

Remanufactured Clutch Kits for FORD vehicles

Remanufactured Clutch Kits for HONDA vehicles

Remanufactured Clutch Kits for HYUNDAI vehicles

Remanufactured Clutch Kits for ISUZU vehicles

Remanufactured Clutch Kits for JAGUAR / DAIMLER vehicles

Remanufactured Clutch Kits for KIA vehicles

Remanufactured Clutch Kits for LADA vehicles

Remanufactured Clutch Kits for LANCIA vehicles

Remanufactured Clutch Kits for LAND ROVER vehicles

Remanufactured Clutch Kits for LEXUS vehicles

Remanufactured Clutch Kits for LOTUS vehicles

Remanufactured Clutch Kits for MAZDA vehicles

Remanufactured Clutch Kits for MERCEDES vehicles

Remanufactured Clutch Kits for MINI BMW vehicles

Remanufactured Clutch Kits for MITSUBISHI vehicles

Remanufactured Clutch Kits for MORGAN vehicles

Remanufactured Clutch Kits for NISSAN vehicles

Remanufactured Clutch Kits for OPEL (1971-87) vehicles

Remanufactured Clutch Kits for PEUGEOT vehicles

Remanufactured Clutch Kits for PROTON vehicles

Remanufactured Clutch Kits for RELIANT vehicles

Remanufactured Clutch Kits for RENAULT vehicles

Remanufactured Clutch Kits for ROVER GROUP AUSTIN vehicles

Remanufactured Clutch Kits for ROVER GROUP MG vehicles

Remanufactured Clutch Kits for ROVER GROUP MORRIS vehicles

Remanufactured Clutch Kits for ROVER GROUP RILEY vehicles

Remanufactured Clutch Kits for ROVER GROUP ROVER vehicles

Remanufactured Clutch Kits for ROVER GROUP TRIUMPH vehicles

Remanufactured Clutch Kits for ROVER GROUP WOLSELEY vehicles

Remanufactured Clutch Kits for SAAB vehicles

Remanufactured Clutch Kits for SEAT vehicles

Remanufactured Clutch Kits for SKODA vehicles

Remanufactured Clutch Kits for SMART vehicles

Remanufactured Clutch Kits for SSANGYONG vehicles

Remanufactured Clutch Kits for SUBARU vehicles

Remanufactured Clutch Kits for SUZUKI vehicles

Remanufactured Clutch Kits for TALBOT GROUP CHRYSLER vehicles

Remanufactured Clutch Kits for TALBOT GROUP HILLMAN vehicles

Remanufactured Clutch Kits for TALBOT GROUP HUMBER vehicles

Remanufactured Clutch Kits for TALBOT GROUP SINGER vehicles

Remanufactured Clutch Kits for TALBOT GROUP HUMBER vehicles

Remanufactured Clutch Kits for TALBOT GROUP SINGER vehicles

Remanufactured Clutch Kits for TALBOT GROUP SUNBEAM vehicles

Remanufactured Clutch Kits for TAXI vehicles

Remanufactured Clutch Kits for TOYOTA vehicles

Remanufactured Clutch Kits for VAUXHALL OPEL vehicles

Remanufactured Clutch Kits for VOLKSWAGEN vehicles

Remanufactured Clutch Kits for VOLVO vehicles

Remanufactured Clutch Kits for YUGO ZASTAVA vehicles

Remanufactured Clutch Kits for CITROEN COMMERCIAL vehicles

Remanufactured Clutch Kits for DAIHATSU COMMERCIAL vehicles

Remanufactured Clutch Kits for DODGE COMMERCIAL vehicles

Remanufactured Clutch Kits for FIAT COMMERCIAL vehicles

Remanufactured Clutch Kits for FORD COMMERCIAL vehicles

Remanufactured Clutch Kits for HONDA COMMERCIAL vehicles

Remanufactured Clutch Kits for HYUNDAI COMMERCIAL vehicles

Remanufactured Clutch Kits for ISUZU COMMERCIAL vehicles

Remanufactured Clutch Kits for IVECO COMMERCIAL vehicles

Remanufactured Clutch Kits for KIA COMMERCIAL vehicles

Remanufactured Clutch Kits for LDV COMMERCIAL vehicles

Remanufactured Clutch Kits for MAZDA COMMERCIAL vehicles

Remanufactured Clutch Kits for MERCEDES COMMERCIAL vehicles

Remanufactured Clutch Kits for MITSUBISHI COMMERCIAL vehicles

Remanufactured Clutch Kits for NISSAN COMMERCIAL vehicles

Remanufactured Clutch Kits for PEUGEOT COMMERCIAL vehicles

Remanufactured Clutch Kits for RENAULT COMMERCIAL vehicles

Remanufactured Clutch Kits for ROVER COMMERCIAL vehicles

Remanufactured Clutch Kits for SEAT COMMERCIAL vehicles

Remanufactured Clutch Kits for SKODA COMMERCIAL vehicles

Remanufactured Clutch Kits for SUBARU COMMERCIAL vehicles

Remanufactured Clutch Kits for SKODA COMMERCIAL vehicles

Remanufactured Clutch Kits for SUBARU COMMERCIAL vehicles

Remanufactured Clutch Kits for SUZUKI COMMERCIAL vehicles

Remanufactured Clutch Kits for TALBOT COMMERCIAL vehicles

Remanufactured Clutch Kits for TATA COMMERCIAL vehicles

Remanufactured Clutch Kits for TOYOTA COMMERCIAL vehicles

Remanufactured Clutch Kits for VAUXHALL (BEDFORD) COMMERCIAL vehicles

Remanufactured Clutch Kits for VOLKSWAGEN COMMERCIAL vehicles